Here's a list of zine and DIY events coming up in the UK.
If you're hosting or know of an event we should feature here, please contact us and we'll add it!
Did you find this resource useful? Please consider sending a tip via Ko-Fi!
London Spanish Book & Zine Fair 2022
1st October 2022

-

2nd October 2022
About this event
The Fourth edition of the London Spanish Book & Zine Fair will take place on Saturday 1st and Sunday 2nd October 2022. The fair will come back to its cosy home at InSpire St Peter's in London with the physical book and zine fair.
More than 40 exhibitors will be present at this year's book and zine fair. The fair will take place over two full days and the programme will include talks, exhibitors stalls and the exhibition Thinking Inside the Box: Latin American Political Posters and Pamphlets curated by King's College London.
Outdoor Paste Up activity and Storytelling for children. Spoken Word Performance and Poetry Open Mic. Bilingual activities (English/Spanish). Indoor Cafe and so much more!
Meet publishers, writers, translators, fanzine makers, illustrators and open minded readers interested in Spanish. See the programme of talks and activities below!
This year #reconnect is the theme of the book and zine and we hope you can be part of it!
Reconnect. This year we want to listen to more voices, to read extraordinary books, to see unique fanzines. We wish we can reconnect with all those things we missed during the pandemic: the joy of writing, publishing and sharing our stories.
🆓 Talks and activities are free to attend although places are limited. If you can please choose a donation ticket (Suggested donation £ 2.- ), that way you are supporting the continuity of this community interest project. Thank you!
📍 OPENING TIMES
Saturday 1st October 2022: 11 am to 5 pm
Sunday 2nd October 2022: 12.30 pm to 5 pm
📍 WHERE
InSpire The Crypt at St Peter's
Liverpool Grove
London SE17 2HH
Note: The venue has disabled access.
London Spanish Book & Zine Fair is organised by La Tundra Revista since 2019. We would like to thank our funders, sponsors, friends and collaborators for making  this edition of the book and zine fair possible: Arts Council England, Instituto Cervantes London, Centre for Latin American and Caribbean Studies (CLACS), Argentine Embassy in London, Victorina Press, European Bookshop, Literary South, London International Paste Up Festival and Arts House Project London.
PROGRAMME 2022
SATURDAY 1st October
11.20 am / TALK | From the Political Pamphlet to the Activist Zine in Latin America. Join Jael de la Luz Garcia (feminist Mexican historian) and Maxine Molyneux (Sociology professor) who will cover the role that the political pamphlet played from the 1960s in Latin America and how by the 1970s and 1980s co-existed with the counter-cultural form of the zine. This activity is led by the Centre for Latin American and Caribbean Studies (CLACS), at the School of Advanced Study, University of London, and the Senate House Library. It is connected to the King's College London exhibition of items from the Latin American Political Pamphlets Collection, Thinking Inside the Box, which will be featured at the fair and launched at the end of this in-conversation activity.
1 pm / TALK | Feminism in Vignettes. A way to generate self-managed media. With Flor Coll (femiñetas). Is media activism the only answer? What are the challenges facing an independent publication not only to ensure its continuity but also to promote the fight for acquired rights in the context of today's world? With ten printed editions of the feminist newspaper femiñetas and a radio program on El Prat Radio, Flor Coll will also refer to feminism in Argentina, the streets won since Ni una Menos, the abortion law, LGBTQIA+ rights and other issues of vital importance, all of them widely represented in the pages of femiñetas.
2 pm / TALK | Caribbean and Pacific Writers in first person. With Cristina Bendek, Velia Vidal and Yvette Siegert in Conversation. Chaired by Silvia Rothlisberger (Literary South)
3 pm / TALK | Fernanda García Lao in Conversation with Karlina Veras. Internationally recognised writer, playwright and poet, Fernanda García Lao is one of the most relevant voices of contemporary Argentine literature.
4pm / ROUND TABLE | Translation as a human and inclusive literary activity. Join writers and translators Leo Boix and Isabel del Rio; literary translator Adam Feinstein; Erica Hesketh, Director of the Poetry Translation Centre; and poet, novelist and publisher Camilla Reeve while they discuss the importance of (human) professionalism and expertise in translation, especially literary translation.
OUTDOOR PASTE UP INSTALLATION | From 11.30 am
In Collaboration with Arts House Project London, London International Paste Up Festival and La Tundra Revista, join in the making of a collaborative paste up installation at the garden of the London Spanish Book & Zine Fair. Led by Spanish urban artist Apparan, the installation will portrait a diversity of printed expressions sent by readers, writers and artists from all over the world. Send your participation by September 10th or join the activity on the day.
PROGRAMME 2022
SUNDAY 2nd October
12.40 pm/ TALK | Language as a home. With Karen Byk (Infraleve) and Lilophilia. In this talk, cultural manager, editor and writer Karen Byk (Infraleve) will talk about community and writing based on her experience organising an open microphone of poetry in Spanish in Berlin, where different tones of Spanish are mixed and everyone is invited to participate, without the need to be professional writers. She will be joined in the discussion by Lilophilia who will talk about her project "Could it be that I am black? and the activist cartel in Latin America" and the use of printing to reach the spirituality and female body territory.
1.20 pm/ TALK | The Power of my Voice: Multidisciplinary Artists of the Fanzine World. Join artists and zine makers Jasmine Kahlia, Tadeo López-Sendon, Ale From SummerClub and Ignasi Torrent as they explore creative ways to connect with others while channeling their individual expression and share their experience on how they have found their own voices in a foreign country.
2.10 pm/ TALK | How to build an international graphic project with Nicolas Grivel. Which are the steps to bring a graphic project to the publishers, from the concept of a story to the layout of a book proposal? Join Nicolas Grive, literary agent (Nicolas Grivel Agency) and scout for the animation studio Laika, as he brings key information to the audience.
3.10 pm/ SPOKEN WORD / On Ghosts. With Inés Cardó. An experimental lecture/spoken word performance that explores matrilineal relationships and intergenerational transmissions of culture, heritage and language, in the form of a letter to her deceased maternal grandmother. Can bodies act as alternative archives, in opposition to the coloniality of institutional museums?
3.50 pm/ POETRY OPEN MIC / In collaboration with Literary South .
OUTDOOR at the SECRET GARDEN
1 pm/ STORYTELLING for CHILDREN with María Quintana Silva
Join Spanish author María Quintana Silva in this outdoor storytelling activity where children can read, learn and speak in Spanish but also to be inspired. As the theme of this year's fair is reconnect, María will read some of her beautiful stories about how we can reconnect with nature and protect endangered animals.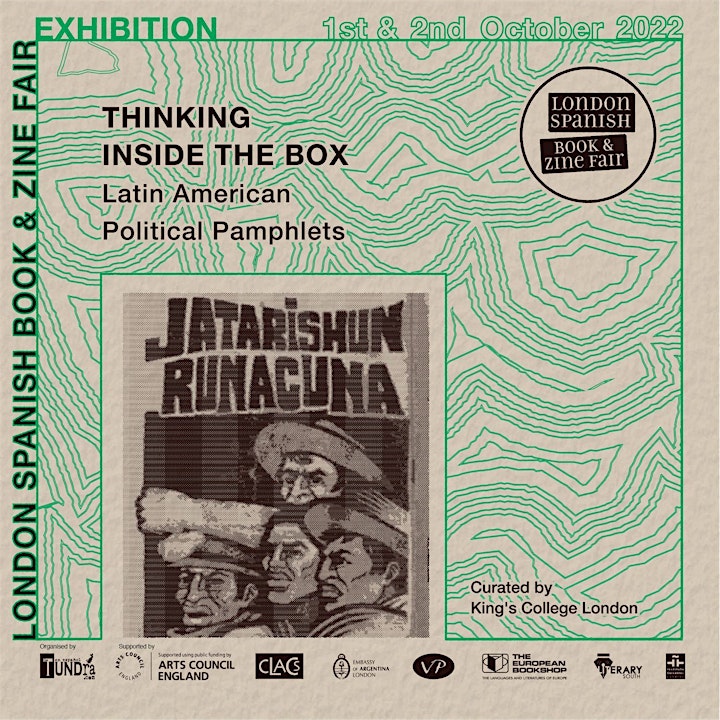 EXHIBITION | Thinking Inside the Box
Latin American Political Pamphlets
Curated by King's College London
Thinking Inside the Box is the result of a co-curricular, student-led pedagogical project set up at King's College London in 2021. Working in close partnership with University of London's Senate House Library, the project accompanied students to take a dive into the library's largely unknown yet expansive Special Collection of Latin American Political Pamphlets of the mid- to late-20th century. Inspired by the work of Brazilian pedagogist Paulo Freire, the project intended to bring student's worldviews and positionalities into the interpretation and treatment of the visual artefacts contained in the collection.
The exhibition was first launched on Wednesday 30 March 2022, at the Exchange of King's College London, but it is also set to travel to different locations across the world in the coming year. The first stop is here, at the London Spanish Book and Zine Fair, where we invite you to join us in reopening this box of political pamphlets and bringing the materials back to life by engaging with them and giving new meaning to their contents.
The launch of the exhibition at the fair will be preceded by the in-conversation CLACS , Senate House Library activity 'From the Political Pamphlet to the Activist Zine in Latin America' which will draw on the Senate House Library Latin American Political Pamphlets Collection.
Saturday 1st October 2022: 11 am to 5 pm
Sunday 2nd October 2022: 12.30 pm to 5 pm
London Spanish Book & Zine Fair 2022